Post-workout hunger is one of a kind wherein you can eat up an entire turkey just in one go. But then all your workout routine goes in vain. Speaking of post-workout hunger, you would agree that eating right and in the proper amount could surely accentuate your health and nutrition levels greatly. However, it's also true that making meals after exercising is an uphill task even though consuming a healthy meal is extremely essential for the body, especially after exercising.
Keeping this in mind, you can always resort to different ways to make your post-workout cooking less tiring like using stand mixers to do so. You can use stand mixers like the Acekool Mixer MC1. This is a versatile kitchen appliance that makes the process of cooking easier. In fact, you can put all ingredients in the bowl and continue with your workout. You don't need to constantly keep a check on it throughout. Plus, you can make dozens of healthy, nutritious recipes using it.
Read further to explore these healthy and nutritious post-workout stand mixer recipes.
Whether you're into intense fitness training or just exercising to lose a couple of pounds, the most essential requirement of your body is proteins. Well, you get some amazing protein-rich food including protein powders in the market, but the peanut butter energy balls are a quick and healthy recipe that you can make using a stand mixer.
Ingredients:
Quick, simple, and a perfect go-to snack for post-workout, peanut butter energy balls don't require a multitude of ingredients. You need 200g Medjool dates, 50g of cashew nuts, roasted peanuts, and oats each. Also, 1 tablespoon of peanut butter, 1 ½-tablespoon coconut oil, 25g desiccated coconut, 20g chia seeds, 15g whey protein powder, and 50g dark chocolate chips.
Methods:
Begin the process by finely grinding dates, nuts, cashews, and oats with a little coconut oil for binding the ingredient together. You can use the Acekool Countertop Blender for fine grinding. Now transfer this mixture to the stand mixer, add desiccated coconut, chia seeds, peanut butter, protein powder, and a handful of chocolate chips. Let it mix thoroughly at a medium speed in the stand mixer for at least 2-3 minutes.
Once it's done, take it out on a platter and roll it between palms into small balls. Your Peanut Butter Energy Balls are ready. Loaded with the richness of protein, it gives you just the right dose of energy you need after exercising.
So, do try this out today!
Banana Bread
Switching to a healthier alternative of white bread like banana bread can actually enhance your metabolism as well as provide energy. If you work out regularly, then opting for banana bread is a great option. Make an avocado sandwich or have it plain, banana bread will give you energy as well as nutrients you require during the workout. You can consume it both before and after the workout.
Ingredients
To make healthy banana bread, you need 3 ½ bananas, 1 ½ cup flour, honey, or maple syrup (go for alternatives of sugar), a teaspoon of vanilla extract, and baking soda each with 1/3 melted butter, a pinch of salt, and 1 egg.
Method
Before you start with the batter, make sure you preheat the oven at 3500 F alongside you keep a baking pan ready greased thoroughly with butter. Then you cut bananas into smaller pieces and put them in the stand mixer bowl. Add melted butter and give a gentle mix at low speed till the bananas get mashed.
Once done, add maple syrup or honey, egg, vanilla extract, and baking soda and salt. Set the stand mixer at low speed and let it mix well. Midway you can add the flour and let the process continue for the next few minutes. Once the batter is ready, check the consistency and then put it inside the oven for 1 hour.
Let it cool and then enjoy with a glass of chilled fruit juice or smoothie, the perfect meal after a workout session.
Beetroot Brownies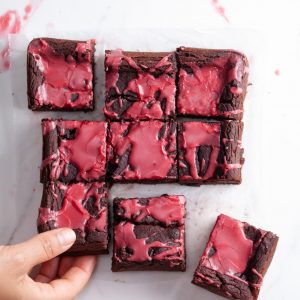 Most of you prefer a gluten and sugar-free diet to keep up with your workout regimen. After all, diet is important! However, those, who have a sweet tooth often find it difficult to resist desserts. So, here's a healthy, nutritious, gluten-free dessert recipe – beetroot brownies – which you can try using a stand mixer to save some time.
Ingredients
Enriched with the goodness of vitamins and minerals, beetroot brownies are a great snack post-workout too. To make this brownie you need 450g beetroot, 350g pitted dates, 3 eggs, 1 tablespoon vanilla extract, 3 tablespoon agave syrup, 200g of dark chocolate and butter, 80g buckwheat flour, 1 tablespoon baking powder, and lastly 100g almonds.
Method
Baking a batch of beetroot brownies will satisfy your cravings, give you necessary nutrients, and is yummy. To make a batch of these brownies, start by first preheating your oven to 180 C. Then chop the beetroot and boil it until it turns tender followed by soaking the dates for 20 minutes. After this, put the beetroot in the stand mixer bowl and beat it until smooth at medium to high speed. On the other hand, melt butter in the same pan in which you boiled the beetroot. To this, you add dark chocolate and allow it to melt at low heat.
Now add dates to beetroot in the stand mixer bowl and let it mix with the beetroot into a creamy batter. Set the mixer at speed 2 for 2 minutes to get perfect creamy batter and while the mixing is still in process, add the eggs, vanilla extract, and the agave syrup. Let it also mix with other ingredients and then add the melted chocolate mixture, alongside bring down the speed control to 1. Continue mixing!
In a separate bowl, you need to combine all dry ingredients including flour, baking powder, and almonds, and eventually add the mixture in the stand mixer. Beat it well and pour it out in a greased pan and slide it into the oven for 30 minutes. Meanwhile, continue with your 30-minute yoga or workout routine.
With your oven's time out and your exercise routine wrap up, you can sit back and enjoy your healthy, scrumptious plate of beetroot brownies. Try it out today!
We hope with these healthy and nutritious post-workout stand mixer recipes you can satisfy your hunger pangs after exercising without going down the unhealthy path. After all, a nutritious diet and a great exercise routine are all you need to boost up your health.
So, indulge yourself in the right food and the right exercise!